We are very excited to announce that the shul's progressive dinner will be December 19 at 7:30 PM! The progressive dinner will be a very enjoyable evening replete with good food, the opportunity to meet members of our shul that you may not know as well and fun entertainment. The progressive dinner format is designed to facilitate this as all participants will have the opportunity to enjoy the first two fully catered courses at different host's homes with three other couples. Everyone then meets back at the shul for a sumptuous dessert sponsored by the sisterhood and fun entertainment featuring renowned hypnotist/mentalist Ronnie Baras! Any questions, please contact any of the committee members, Nitza Adler, Gila Ginsberg, Lois Goldsmith, Alisa Hercman, Riki Kreitman, Chani Wiesel, or Honey Wisotsky. Reservations are $25 per person.
Please click here to register!
December Retiree Lunch and Learn
A Woman Called Golda.
This film spans Golda Meir's life. We will be showing Part II on Dec. 8 (Chanukah). Because of the video's length, there will be no speaker.
Date: Tues, Dec. 8th Time: 12 noon Location: Ohr Torah Synagogue, 48 Edgemount Rd, Edison, NJ.
Program includes a light lunch. There will be a charge of $10 pp to help defray cost of the meal. RSVP by Sunday prior to the event to Bella blerner18@optonline.net 732 317-1786, Mildred 732 572-1712, or Marcia ppheffer@verizon.net 732 572-5998
Light Up the Night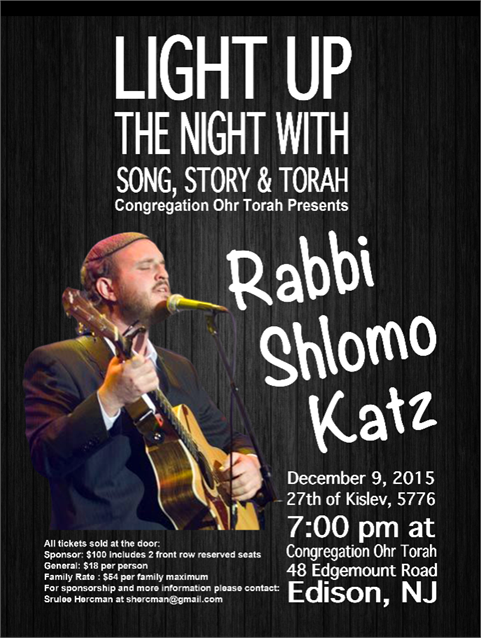 Enhancing Our Tefillah Experience at Ohr Torah

Be A Part of It!
In memory of Joel Adler, a'h
Congregation Ohr Torah has embarked on an all-important initiative, 'Enhancing Our Tefillah Experience', in memory of our esteemed and beloved gabbai, member, and friend, Joel Adler, a'h.
Please click here to download the letter that introduces this initiative, including the intent, a call to action, and the benefits of your active participation. Our goal is 100% participation that creates a strong bond of achdus (unity) in our shul. Act now and commit to being counted among those who actively participate in this all-important initiative that will bring us closer to Hakadosh Baruch Hu and enhance the power of our tefillos.
Please click here to download the Bli Neder Commitment to 'Enhancing Our Tefillah Experience'. Either sign the paper form and return it to the shul or conveniently enter your name below, which acknowledges your Bli Neder Commitment that is enumerated in this form.
If you wish to become further involved in supporting this initiative, or have additional ideas, please speak with Shelley Schoenfeld or email: TefillahExperience@OhrTorah.net
Parshas Ki Savo describes that Hashem heard the voices/supplications of the Jewish people. May Hashem hear each of our voices as they ascend from the depths of our hearts to the heights of the shamayim (heavens), and may our efforts make our tefillos more effective and meaningful as well as bring nachas to every one of us and great simcha to our lives as we each do our part to grow closer to Hashem.